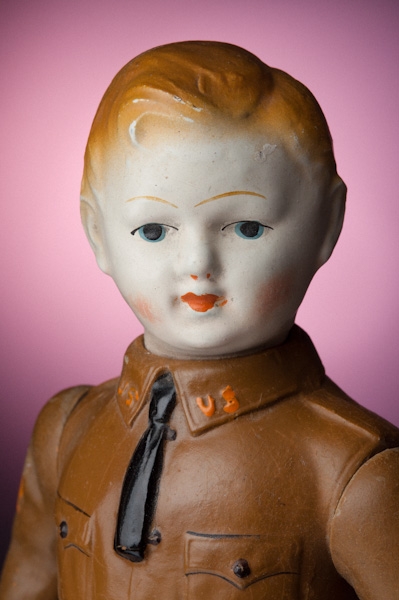 This Vintage boy scout doll is from the early 1900's. this toy was made of wood and then hand painted.
Taking a portrait of toys and people, have many things in common. I keep in mind many of the things I do when taking portraits of people when I'm shooting toys, having a good eye contact is one of them.
A good eye contact makes an effective image, because it helps the viewer and subject connect.
As in many of my images, I have an idea when I'm creating the image. But rather than revealing my ideas, I prefer to hear what the viewers have in mind; for me, any interpretation is correct.
Handling these little old toys, while setting up a shot, make me think about the child who first received them as a present.
Was it a Christmas, or a birthday present, or an unexpected surprise because she/he was the apple of their parents eyes. It makes me think about the happiness it brought these kids, little sparkles of joy on their life's timeline, and how they are probably no more… and how a box or a drawer became home for these toys.
I'm happy I can put this Vintage boy scout doll and his little friends in the spotlight again.
Own a Vintage boy scout doll customized print
You can get a closer look and own a print of this Vintage boy scout doll by clicking this link You can easily select frame options and printing materials, and customize the print to your liking.